The Block – First Bathroom Reno
Posted on August 9th, 2017
I have to admit it, I have never sat and watched any of the reno shows to date on TV, but this year's 'The Block' for some reason has grabbed my attention.
Not sure if it is the interesting characters that have been chosen for the show, or just the enormity of the project and wondering how the heck are they going to complete it in the time frame they have been given with just $250,000.
But, like all TV shows, they find a way and I am sure will accomplish it – all of them coming out of this amazing experience for the better.  What character growth and new skills they will come away with. An amazing opportunity for anyone to have.
So let's have a look at all their bathrooms and pull it apart again just for fun.
HOUSE 1 – Jason & Sarah
Personally I love their floor tiles and their 2 large round mirrors. For me this really works.  And to think gold is coming back in again for tap ware. So everyone out there that has gold tap ware you are back in the trend again.
I do agree that there was too much clutter in the bathroom, but when you are in such a rush it is hard to get your head into order and have time to really think the styling through.  This is the part that really finishes and makes or breaks the room, but unfortunately time does not allow you to get it right.  This is where experience in renovating really comes into play.
I love Jason's motto the 5 P's.  Prior Preparation Prevents Poor Performance.  I hope he and Sarah can get this right in their next room.
HOUSE 2 – Clint & Hannah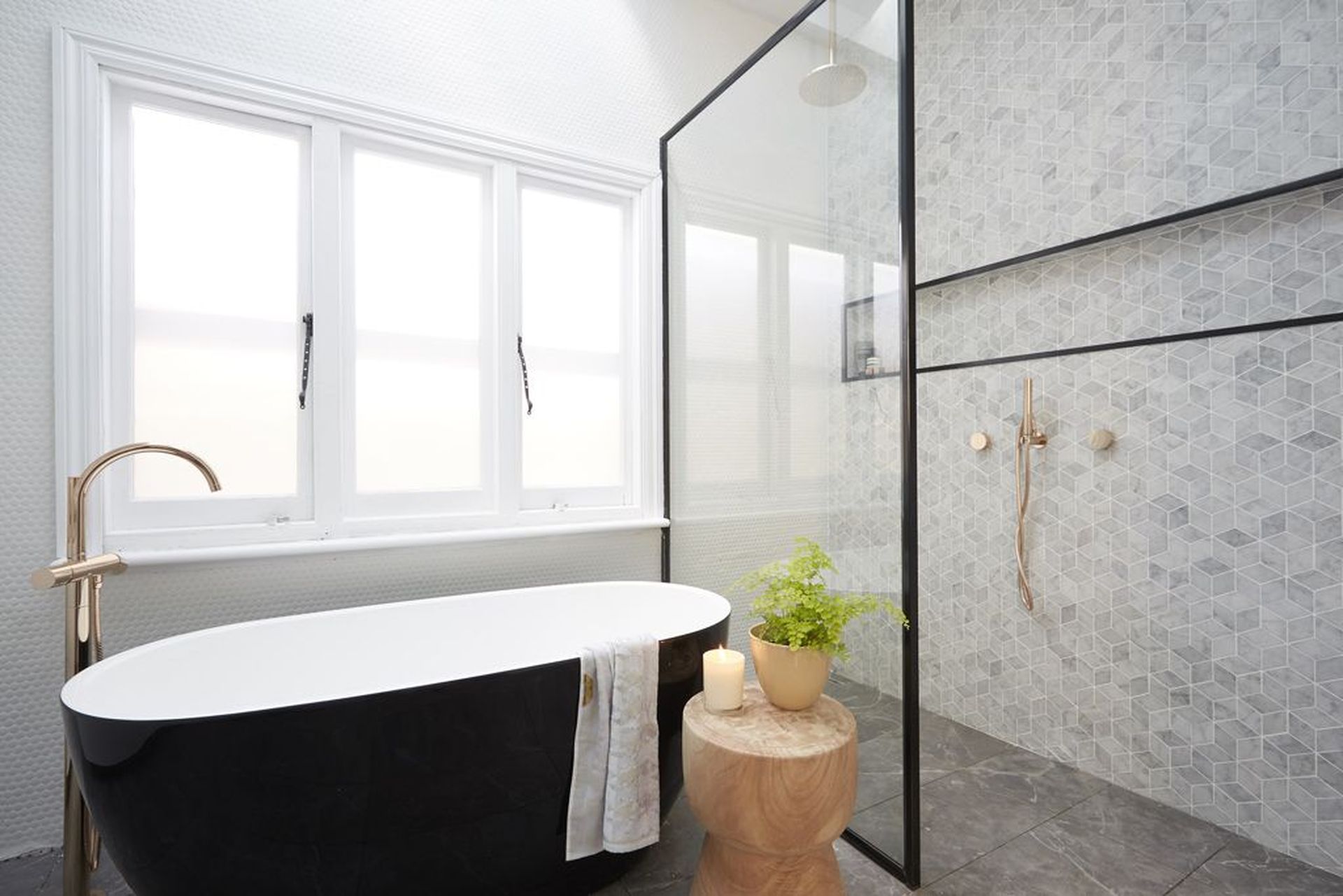 Who feels like these guys?  In the middle of a reno feeling confused, frustrated, not knowing what the next step needs to be.
This couple have really tugged at my heart. So genuine, and just giving it their best shot.  I had the tissues out and was having a cry with them as well.  We are all behind you guys – heads up and keep moving forward.
I really am upset with the quality of workmanship of the carpenters that really put these two on the backfoot.  Any tradesman that has half a brain wouldn't build a floor up on a bathroom – and the walls being 20mm out of plumb is an absolute joke.  I hope they didn't pay them full price for this job.  A great opportunity for another team of carpenters to jump in now and show their skills.  If they had someone they could trust they will actually go a long way.
I will say that the different combination in the tiles I wouldn't choose, but the judges seemed to be happy with it.  Again the round mirrors and the gold tap ware.
But speakers in the bathroom?  Can't even escape to the bathroom without technology now.  Mind you – with that beautiful bath tub to sit in – would be nice to zone out with some great worship music.
HOUSE 3 – Ronnie & Georgia
Love, love, love the floor tiles.  They have really captured the era and style of this home. Not to mention the beautiful black framing of the glass shower screen.These guys really know how to style and put a room together.
Not sure if I would put the tap for the bath right in the middle of the bathroom – I would keep runnng into it, however, could be handy to hang the towel over ready for when you jump out of the bath.
The Bose speaker I think was definitely a mid life crisis spend. I think he should shift it to each room he does up and it can become a game instead of "Where's Wally", but 'Where's Bose'.
Again the round mirror and the gold tap ware.  Please, please, let someone do something different.
HOUSE 4 – Sticks & Wombat
If you ask me this room was my favourite.  I cannot get my eyes off that beautiful mosaic feature wall in the shower.
This room shouts out class.  Also, you can't see it in this photo, but as the judges put it they have created an Architectural Success with the two large skylights up above that make the room feel airy and fresh.
Thank you for not using gold tap ware and round mirrors.  The large storage area behind the mirrors is amazing and would make a mum very happy with all the extra cupboard space.
I also love the copper feel throughout.  A lot of thought going into creating something different and unique.
Just like Wombat I learnt a new word – BESPOKE – which means 'a product custom made'.  Love it, love it, love it, because this is what we are all about at Ten Commandments Granite & Marble.  Bespoke, bespoke, bespoke everywhere.
I will be keenly watching what these two will create in the next room.
HOUSE 5 – Josh & Elyse
Well the round theme has to be the winner in this show.  A truly well thought out bathroom, again with Architectural success with their skylights.
My favourite things about this bathroom, is the amazing timber vanity and the large plants that hide the toilet and creates a separate zone of privacy.
Not sure if I want to pay the water bill for this house with the size of the bath tub, but would love to jump in and have a soak – looks amazing.
CONGRATULATIONS ON BEING THE WINNING BATHROOM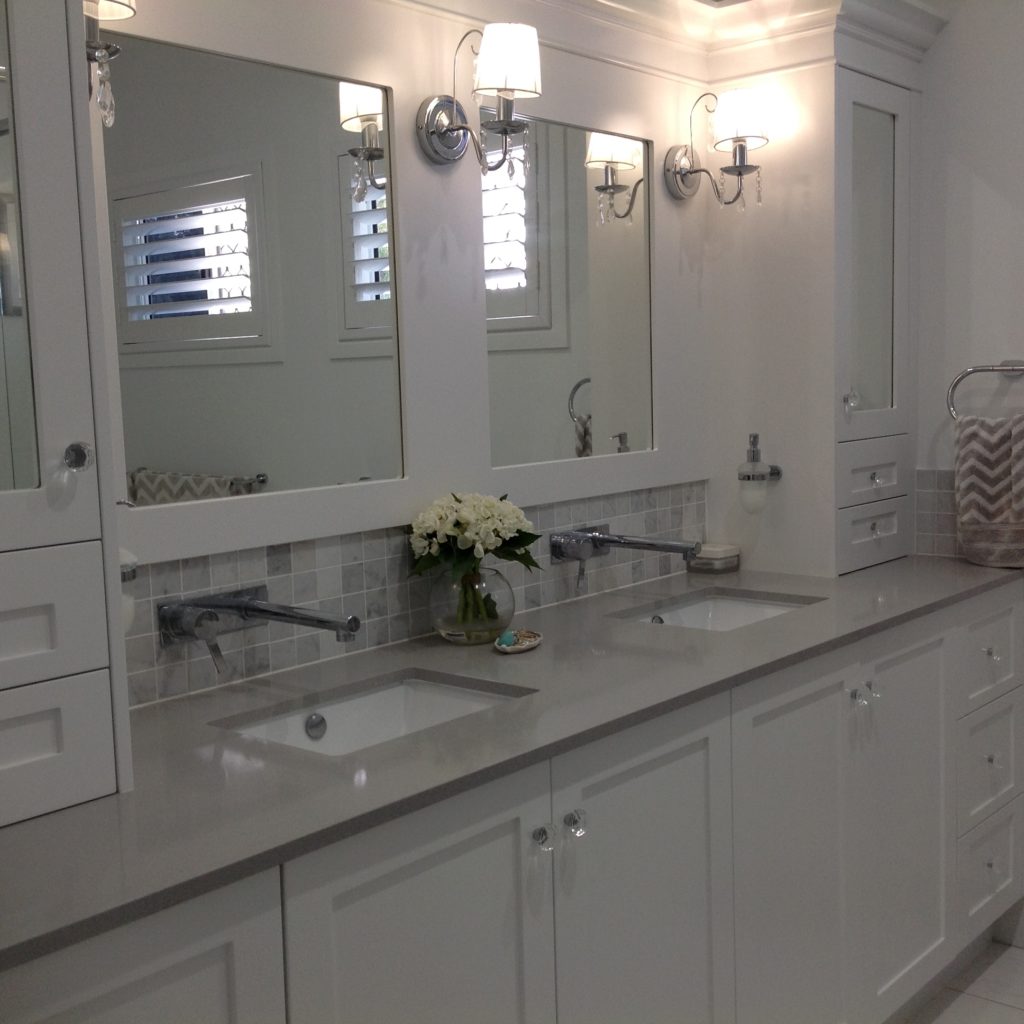 Winning Bathroom – Ten Commandments Granite & Marble
Winning bathroom in our eyes that is.  This is a beautiful bathroom of a renovated house in Zilzie, Queensland.
We were proud to play a part in providing the stone benchtops.  Class and beauty does not only belong in the city but also in the regional areas – so if you are looking for ideas or that beautiful benchtop that is going to be the wow in your renovation come and see our showroom in Yeppoon and allow us to help you create that bespoke feature in your home.
Want the 'The Block Look' for your bathroom?
Other stories